my friends Christina and Jon arrived last light and after transferring their needed luggage and food items from their van, we drove up to San Francisco for the evening to hang out and met up with Donald, a friend of theirs from Southern who just happened to fly into SF that very day. after finding parking (which i now am a little wiser) and a good hike up a street, we found the place where we picked up Donald and his friend. a brisk walk down Stockton past Union Square and south of Market brought is to the Metreon where we chilled and grabbed a bite to eat at the Buckhorn Grill, one of the many eateries found inside. later, Donald and his friend went back, while the three of us stayed at the Metreon to see The Break-Up… which i think left a rather unsatisfying after-taste by the way it ended.
it has been about three years since i last went into the city, so it was a rather nice venture if it was only for a couple of hours. unless people live, work, or attend sports games in SF, there really isn't any reason why someone living in the Bay Area would spend their time in traffic just to go there… well, maybe the occasional dinner in the city but that's about it. so when friends visit, its always a great opportunity and reason to trek back up there and have a look-see.
after several episodes of the O.C. (i'm not into this show) and some early-morning chatting in the kitchen, we finally "hit the hay".
this is us taken just before they left. i think my one-handed framing skills to include three people has either magically increased or i was just lucky. whichever case it may be… take that Kathy Khoo! then again… maybe her skills has increased as well so i'd better shut up.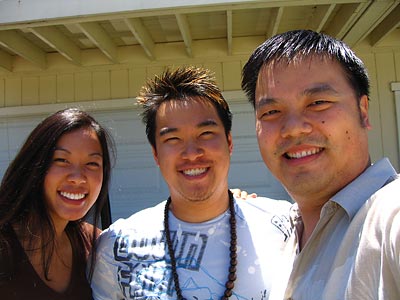 Click here for larger size (2048×1536).
ahhh… good times, good friends. i thank God for giving us the small opporunities (twice in two weeks) to hang out person-to-person. though IMs, text-messaging, cellphones, e-mails, and MySpace certainly does help bridge the gap, nothing beats the physical presence of a fellow brother and sister in Christ. (well i'm the "in Christ" part, they're really brother and sister). 😀 i can't wait till this world is over and to enter into the next one where "see-you-later"s will never have to be said. now THAT will be a PAARRTTEEE!

Click here for larger size (2048×1536).