One Remote to Control Them All
i love tech gadgets. yes… this is the second time i've started my blog entry this way. maybe its because it was only a few days after my new webcam came that my new remote-control-on-steroids arrived at my doorstep. yes, this is my new Logitech® Harmony® 880 Advanced Universal Remote. if you click the link it'll take you to its spec page and you'll definitely see its suggested retail price of USD$249.99. so you're probably thinking why i would spend that amount of cash on a remote. well i would ask myself that question too, but i didn't… really i didn't. i saw a deal on the internet that Dell Computers had a limited time special on this remote for USD$99.00. yes, you read right $99! that's 60% off MSRP! so i quickly took this opportunity to snatch this quick before it passed me by.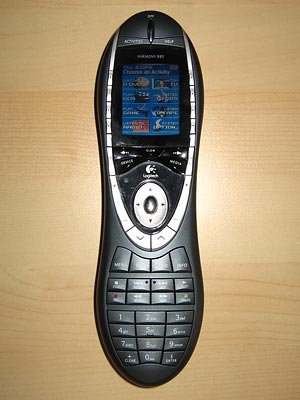 there are some people that have so many remotes that they can open up a store of remotes. but i only have four remotes… well five if you count my Xbox DVD remote control and that's four too many. its not that i have a lot of people who come to my house when i'm not there and become utterly confused at my entertainment setup when they want to pop in a DVD to watch. its just that like many other things, keeping things simple and uncluttered is key. just how simple you ask?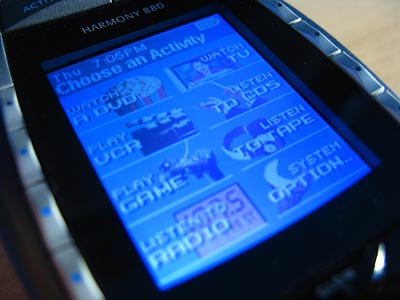 well, here's a close up of the activity screen. if you click the button on the upper left next to "Watch a DVD" it will 1) turn on my television and auto switch the channel to Video-1 which my DVD is connected to, 2) it will turn on my DVD player, 3) it will turn on my stereo system and auto switch the input to AUX which my DVD audio is connected to… all at the same time! and of course by turning the power off, all three devices begin to turn off at the same time. ahh… such audio-visual nirvana in the palm of my hand! of course, the experience will be even more appreciated if one were to have a more complicated entertainment system with more remotes to juggle. but for me and my new remote, i can now put the others away and chalk it up to keeping things simple and uncluttered. yes! that's it uncluttered. if any of my married guy friends are reading this, tell your wives that a universal remote will make your entertainment space more simple and uncluttered. maybe that'll work. ;D