I SO Find This Rather Amusing
today, after having lunch at Bombay Garden with my parents and a trip to Costco, we stopped of at Lion Supermarket to get some asian groceries. about 10 minutes of browsing for the stuff that we needed, i saw my mom on the other end of the aisle and caught up with her and her shopping cart. i discovered as she had before me two tables of moon cake boxes of all varieties and combinations. the moon festival is always on the 15th day of the 8th month by the Chinese lunar calendar. confused? well, its 06 October for this year.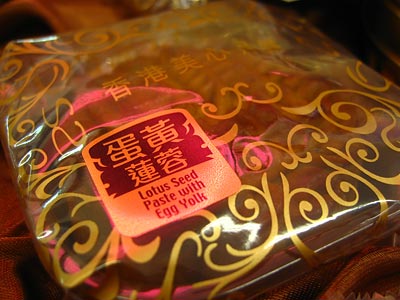 there was one nice packaging that wasn't taped shut so i opened it up and took this picture of the moon cake with lotus seed paste with egg yolk – not my favorite but passable if there was none around.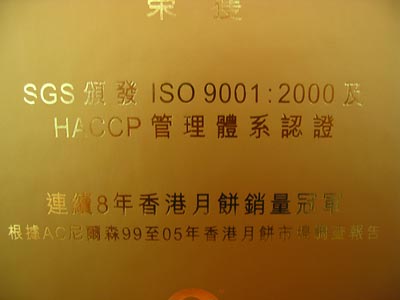 as i was about to close the lid i saw this printed on the underside. now my Chinese reading ability is pathetic but i want you to notice what you can recognize in alphanumeric lettering – "ISO 9001:2000". having had clients in the tech industry, i've learned that ISO certification is way of managaing quality. its used throughout the tech industry but using it for food? what the heck? this amuses me to no end. if you're interested in understanding why i'm so tickled you can check out the International Organization for Standardization for information regarding the ISO 9001:2000. if you can't be bothered, well i won't be bothered.