Like Noodles, We're Connected One Way or Another
in the previous post, i mentioned that i was helping out with a Bible seminar by operating the video camera every night. i also mentioned that the last several weeks during the seminar i've been crazy busy and had little time to post but still had some stories to tell. well, this is the last week and before i forget there's a rather interesting story of just how short the degrees of separation are in the Adventist Christian faith. *deep breath* so here it goes…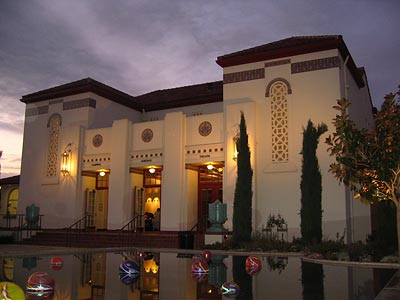 though this picture was taken last evening, its pretty much what its like when i get to the Heritage Theatre. of course, there was a lot more light at the start of the seminar than there is now since the sun is setting earlier. it must have been one of the first few meetings when i had a very pleasant surprise… and this is where the degrees of separation is as short as it is.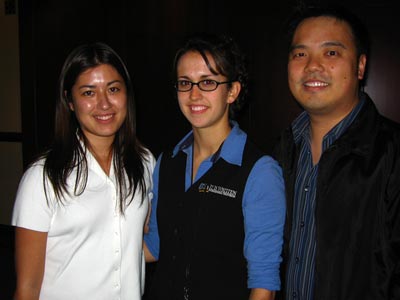 i had just finished the setting up the camera and started to make my way to the restroom when i saw the girl on the left. at first i wasn't sure whether it was who i thought i was so on the way back to the hall i approached her to confirm my suspicion and i was correct. i had first met Aiko in May 2005 when i was in Malaysia on a mission trip. we were both very surprised indeed as she thought i lived in southern California. for the next year she'll be serving Mountain View Japanese Church as their Bible worker. and speaking of Bible workers…
my church has a Bible worker and her name is Heidi (center). though she hasn't been here for very long, i believe she's fitting in very well and very fast with both my church and the Bay Area. we've had some pretty cool conversations and i look forward to working with her in the time that she's here. SO… as i'm getting reacquainted with Aiko, i learn that Aiko and Heidi already know each other. how cool is that? "they" say everyone is connected to each other somehow through six degrees of separation. well, we got two degrees of separation between the three of us! oh yeah… my church is very connected. and speaking of church…
last sunday my family (pictured above, obviously) attended a wedding. Andy Ng, the violinist at the wedding is a family friend of ours as well as good friends with the parents of the groom. in fact he and his wife went on the mission trip to Malaysia with my dad and i. why do i mention the Ng's? well, Heidi knows them too! the wedding was short and sweet but since i had to get to the seminar for the videotaping, couldn't make it to the reception which i heard they had some yummy Malaysian food. and speaking of food…
eating late isn't recommended for proper health lifestyle although its practiced in many parts of Asia. there are a few Chinese cafes around Milpitas that will open till 3:00a to cater to immigrants who still follow this dietary style. every once and a while my family will frequent Top Cafe for a bowl of noodles like the Fish Ball Lai Fun above, Chow Fun, or whatever noodle, rice porridge, or rice dish we feel like having. they don't really have a vegetarian selection but they're more than willing to accomodate. of course when we go its more like between 9:00-10:00p, because its just silly to eat at 3:00a. i'm Chinese, but not that Chinese.