Going To and Fro with Him Beside Me
oh goody, last friday i got to go into San Francisco. and i say that without sarcasm… well maybe a little hint of sarcasm. anyone living in the Bay Area knows that there really is no real good reason to go into the City unless you have to. if you have reasons like you work there, live there, or being the tourist then yes, by all means go into the City. but if you don't have to, why would anybody want to experience the traffic going, or coming, or both going and coming. bleh. well i wasn't going there to work and i don't live there, nor am i a tourist. however, TO be a tourist in another country… more specificly a mission trip to India… i had to go to the Consulate General of India or the Indian Consulate. i don't know which is the proper term maybe they're interchangeable. their website says the former, but when i went there i saw a sign inside that said the later.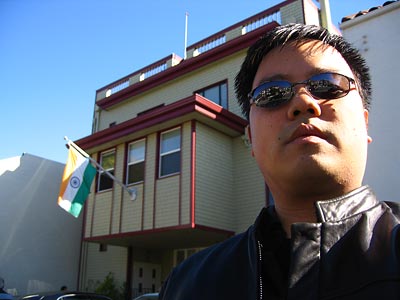 anyways, here i am in front of the Consulate just right after i submitted my and my dad's visa applications as well as forking over $120 in application fees. my facial expression isn't because of the amount of less money i have. rather it is because my self-framing photo skills were off that day so instead of taking two or three pictures to get the shot, it was more like six or seven. maybe the unusually warm temperature in SF and me wearing black had something to do with it. anyways since it was about 11:00a and the visas would be ready around 4:00p, i had A LOT of time to kill so off i went in search of a public library where i know i would find an free internet connection.
it was a good thing i had my trusty GPS with me so i looked up the closest library and took off. as joyful as one would find the parking experience in SF, i finally secured a place that wasn't claimed by a parking meter since i made the mistake of not bringing coins and i'm cheap. as i walked up to the library i was disappointed to find that it was closed for renovation but would open soon… but not that day. loading my computer back into my trunk, i got back into my car and went to the second closest library. great! it wasn't closed. but of course there was no parking to be found AND no one was leaving any time soon. they say three times is a charm so off i went to the third public library and it was closed! BUT this one had a small parking lot and no one was there yet. AWESOME! and there were trees surrounding the parking lot… shade! DOUBLE AWESOME! so i parked, screened down my windows, opened up my moon roof, and got out my laptop which i quickly found and connected to the library's wireless network. when they opened an hour later, i went in to plug in so that i could recoup my battery.
about 2:30p i decided to find some cheap food by means of Taco Bell. however when i got there, i was parking-challenged once again. so i decided to skip lunch and just go back to the Consulate since and wait out the next hour or so. when i got back to where the Consulate was i was fortunate enough to find parking around the same place as i had earlier that day. i pulled out my laptop once again and to my delight, i found some neighborhood wifi networks that were unsecured. TRIPLE AWESOME! for kicks i decided to go the Consulate at 3:30p instead of 4:00p just to nose around. i should have gone at 3:00p since there was already a line and they had already started handing back the passports. great… waiting in line outside wearing black in this unusually warm-nearing-hot day. by the time i got our passports it was 4:00p and this was my opportunity to start heading out of the City.
all the awesomeness that i had quickly left has it took me about 40mins just to get out of SF itself and another hour and twenty minutes to get to the Mountain View Japanese Seventh-day Adventist Church for vespers. i hadn't eaten all day… that's okay… God made our bodies to be resilient in unusual times. the vespers was the beginning of the weekend theme "Righteousness by Faith" sponsored by the the Area 2 Youth and Young Adult Federation. i will post about that when time permits. but sufficed to say, with all my comings and goings, i'm now one step closer to India because my Father granted my visa application. God is AWESOME!!!