okay… this is the last post of the three posts that had gotten away from me. even though it was ten days ago there hasn't really been anything major going on between then and now so don't worry, you're not missing much… or maybe its me who is missing things to blog about? argh! oh well… here it goes.
11 Dec. the party/Bible study thing that i'm involved in, if you haven't caught on already, is really model of sorts of small groups. so if you check out Acts 2:46-47, you'll see the correlation. so this particular sunday of this month, it was time to throw yet another party. i like the word "party" but i think in the coming months we're going to shift the event to a less frivolous tone in terminology but keeping the formula the same: food, fellowship, and the Word. but in my mind, the joy of "party" will still be alive.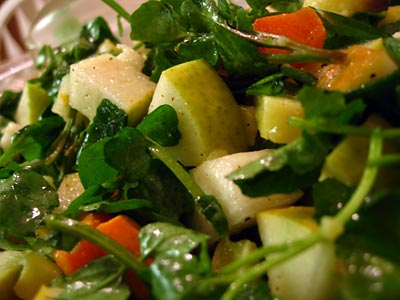 sweet potato, watercress, and pear salad. i found this recipe as well as the combination interesting so i decided to try it out. it was okay, but i think it would have been a lot better had i given the pears enough time to ripen. also, this is the first time that i worked with watercress. i've had watercress before but only in small quantities. but since this recipe uses watercress as one of its three main ingredients, the flavor was strong and sharp. its not a bad flavor and had the pears been sweeter it and the sweet potatoes would have complemented the watercress nicely but since it wasn't as ripe the balance was off. i had enough watercress left over to make it again which was better but i think that, unlike the "cranberry, apple and jicama salad", its broad appeal index is not as high. i did notice that the flavors of this salad seem to be better the next day. it makes better as a leftover? go figure.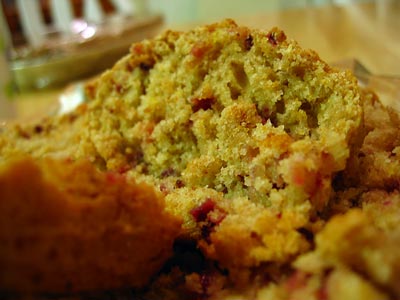 the bread was made and brought by Melinda Fletcher. quite tasty and quite photogenic! not only do i like eating bread but i like looking at their textures.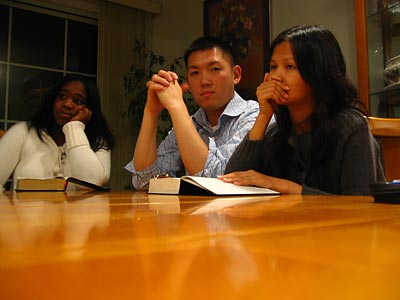 Left to right: Danette, Brian, Nana.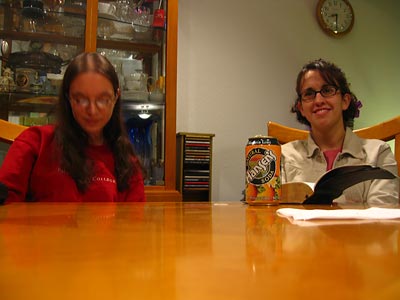 Left to right: Melinda, Heidi.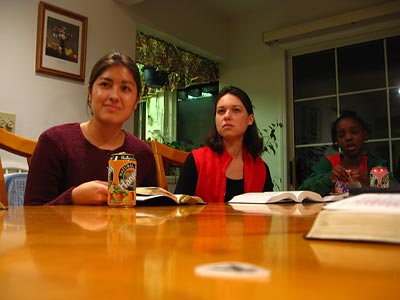 Left to right: Aiko, Michelle, Brittany. this time around Aiko presented the study. it's a December month and typically the focus would be a Christmas theme… as in nativity and the like. but we're not typical. so we took the theme of "Peace", like "peace on earth" or "peace to all", and examined how the world offers it against how Jesus offers it. there were many facets that were covered also but the bottomline is that Jesus came to this earth to bring us peace and provide deliverance from the chaos we bring upon ourselves. that deliverance is not that we are taken out of the chaos but we now have a Peace going through it… and that's mind-blowing or as King James would say "passeth all understanding".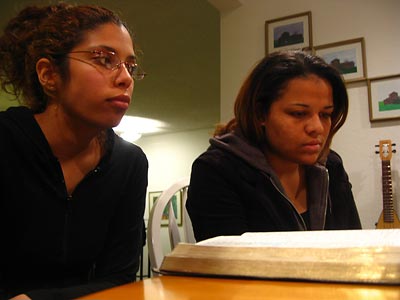 Left to right: Nikki, Andrea. while we were eating, Nikki and Andrea was going over some childhood memories in grade school. there was a story about busted teeth and another about Heinz 57 that was very, very amusing. we had a very good laugh. i guess i can relate to you what i remember of the stories but it's one of those "you-had-to-have-been-there" moments. ahhh… good times, good times.
so that's it, i'm "caught" up. and like i said before, there hasn't been anything major going on in the ten days between then and now so unless i feel really compelled to turn some small thing like a mole hill into a mountain, i'm just going to do my best to be more current.