our journey to India was over but we still had more traveling yet to do the next day. i didn't know what to expect when we landed in Chennai (MAA). however i was a little surprised that it wasn't nearly as humid as it was in Malaysia even though people told me it would be warm. of course it could be latitude thing.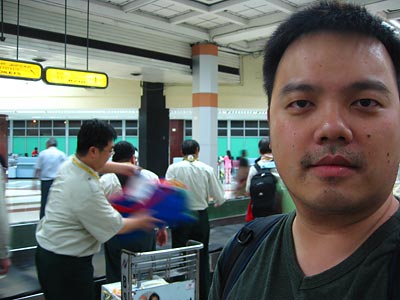 as my dad is looking for our luggage, i quickly take a few shots of myself in the Chennai International baggage claim area. after all the luggage had been transferred and the luggage belt stopped, my dad and i were quite worried because we didn't see his checked suitcase. of course, we couldn't see his suitcase because it had already been taken off the belt and had several Indian men standing near it blocking our view. it was only when they started to disperse that i saw it and signaled my dad to its location to which we were both relieved.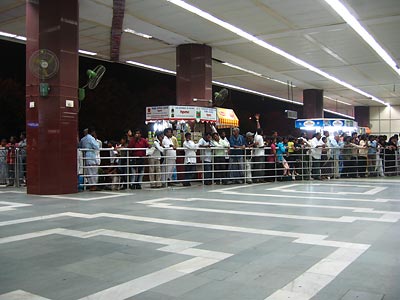 when we walked out of the international terminal, i was quite amazed at the amount of people that come out to receive whoever they are waiting for. i'm so used to how we do things in the states because we're too cheap to park and wait that we'd circle the arrival terminal until we eventually see who we are picking up.
my dad and i didn't make arrangements for a place to stay the evening that we arrived. but there was this hotel "agent" in his rather ghetto-like office that was just outside the terminal. i took the previous picture from the same place that i took this one of my dad "negotiating" a price for a hotel that the agent "claimed" to be only 15 minutes away from the airport. at first i didn't know what my dad was doing. in his silence, i thought he was just thinking it over so i told him that US$90 is a decent price for a hotel since some motels go for US$80 in some places… and that's just for a single. but in his silence, he was able to get the price to come to US$90 since US$120 was what was offered in the beginning. i'm sure it still could have come down a little more but we were tired and looking forward to getting some rest soon before having to leave early in the morning the next day.
the first life experience lesson in India that we learned was that people who help you out expect tips. everywhere you go people will help you with your bags even though you can perfectly carry them yourself and then turn around and hit you up for a tip. so if you are fully able and can carry your own stuff, be adamant and refuse help even to the point of grabbing your bags from them unless you want to start giving money away.
we learned this by the shuttle to our hotel. obviously we didn't know which shuttle would take us to the hotel so there were two guys that pushed our luggage cart to the parking lot where the shuttle was and loaded them. after that we were a little wiser and a little more prepared in what to expect.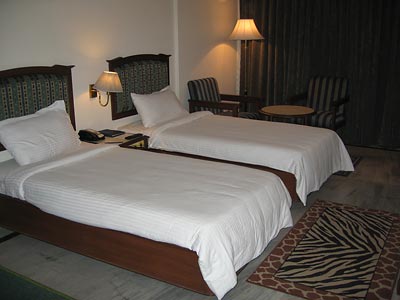 our US$90 room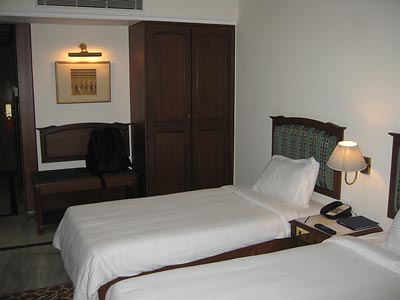 we arrive at the hotel 40 minutes after leaving the airport. okay… bad traffic aside… i doubt that anyone could have made it to the hotel in 15 minutes in good traffic. seems time is flexible in India. anyways… after checking in and entering the marble-floored room both my dad and i were very impressed. this was our first night in India and a clean room and comfortable bed is just what's needed after 30 hours of traveling and transits.