today and for the next week and a half, i woke up sometime between 6:30-7:00a. it is quite uncharacteristic for me but also it is quite refreshing… both literally and figuratively. i wonder if i would be able to do this once i get back to the States.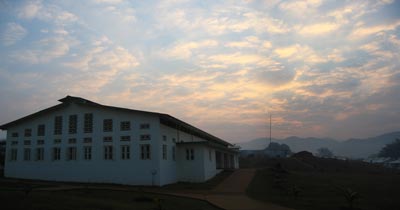 i walked around the school campus to get an idea of where everything is since last evening we arrived when it was dark. the morning light against the clouds greeted me with its glow right outside our room which at home i sometimes see as i go to bed (a most unhealthy habit and not advised). the building is the cafeteria/hall.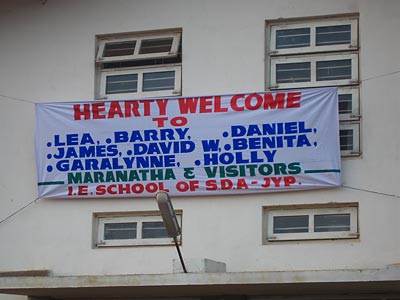 i was, and still am, humbled by their expression of welcome in this banner. i'm sure this wasn't inexpensive. however this token, to me, showed their greatfulness and appreciation of our presence even before we even started work.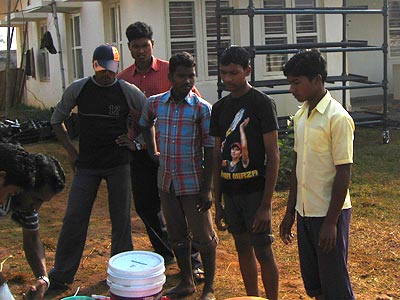 today we started to paint. here are some of the boys who helped with supplying the paint and/or shadowed us with paint trays and buckets as we painted. the one in the blue plaid shirt helped me most of the time. i've never met a group of young people so willing to help… even to move my water bottle. truly their willingness and attitude of service is deeply rooted in the character of Christ. i wonder if they are helping me more than i am there to help them.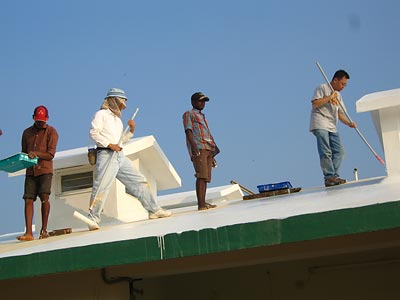 we were grouped in two teams of four and it so happened that the groups divided themselves by gender since there was an even number of men and women. here my dad and Daniel are the last painters on the roof as they paint themselves out. the process we typically followed was to paint the 12 vents first (you can see three of them in the picture), paint the edge, and then roll paint on the flat surface of the roof. certain steps may be overlapped obviously. for example, if two vents have yet to be painted and two people are painting them, then the other two will start edging or rolling. if i remember correctly, we average about two hours per roof.
it was a good day and i hope to have a very good rest tonight.