Second Coat, Ants, Look Ma… No Limbs!
today we finished a little earlier in the morning to join with the kids at noon for a special new year prayer meeting/worship service. after that we went back to work applying a second coat of paint to the first roof that we started on. then around 5:00p we played with the kids for about an hour.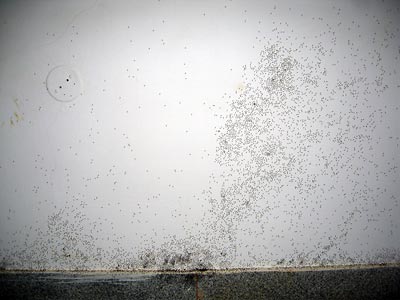 after dinner, we noticed that an entire colony of ants was making its way through (but not necessarily traversing) the wall of the women volunteer's room. it was quite fascinating watching the ants carry the eggs. so we Raided (or whatever brand of ant-killing spray was used) the ants that were actually trespassing into the room like around the window and door frames. by the time we got back from evening worship, the colony had moved on leaving the dead ants that were sprayed.
i think tonight's evening worship ran a little long for the kids. not because of our participation but the video that the pastor wanted to show the kids was a tad lengthy. the video was a bio/sermon of a man named "Nick Vujicic". you can find more about him at www.lifewithoutlimbs.org. the audio wasn't too good since the video projector was mic'd. it would have been better with a direct line from the audio out on the DVD player.
i got another early day tomorrow so i'm checking out at 10:00p. laters.