some of you know i commute to work using the Bay Area Rapid Transit otherwise known as BART. for fares you can either buy a paper ticket or sign up for their BART EZ Rider Card which automatically reloads from your credit card account. i've been using BART now for a little over a year and the EZ Rider Card is very convenient. however i was still using paper money or change for the parking fee. one buck is not a big deal. but by not being a usual cash user, trying to find ways to break a twenty has been a challenge… until NOW!
calling it the "EZ Rider Parking Program", BART allows commuters to pay for parking using their EZ Rider Cards. when it was announced i was very excited and enrolled in this program to get my personalized serial number hangtag for my car. on Monday i received and email notification that they had sent my parking hangtag and today i received it!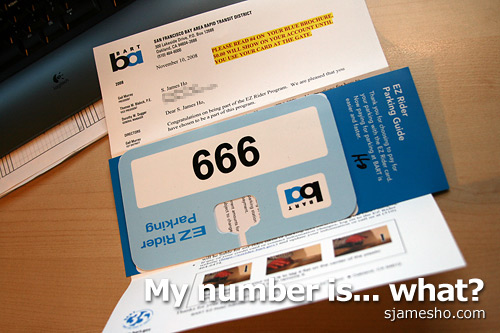 after opening up the package and unfolding the contents, these numbers boldly greeted me. i was a bit startled at first and then…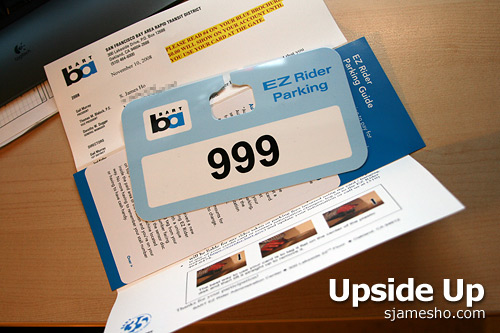 did a 180. not that i was freaked out or anything… just a bit startled. i think it is kind of cool to have all the same digits. anyways… i'm happy now that i have my hangtag. the Fremont station is scheduled to begin the program on December 8 and i can't wait to not have to worry about making change for the dollar parking fee.