Family, Friends, and Fall Fest
on November 2 i made my way to the Napa Valley to visit my cousin Carissa who is a first year student at Pacific Union College (PUC). PUC is also my alma mater and it has been three years since i've visited the area so it was nice to get back to the valley. Fall Fest was happening that day as well so i was looking forward to the festivities.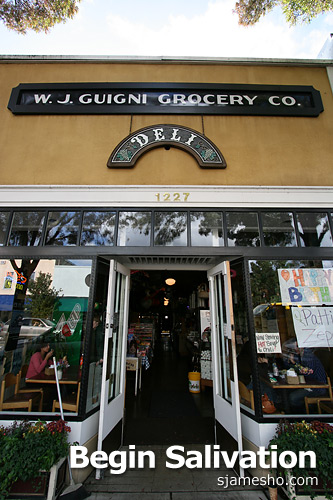 i picked up my cousin at her dorm and took her out for lunch at Guigni's in St. Helena where i had frequented many times in my college duration.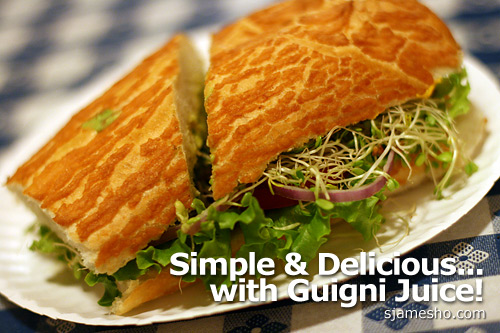 but unlike those times, i did not carry a camera with me as often as i do now. so now you have the benefit of my amateur skills. and my skills loves to take pictures of food. here is my Guigni vegetarian sandwich.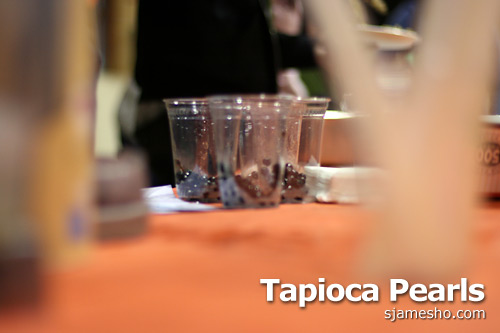 after lunch we headed to Calistoga where i showed here where Boskos Trattoria was if she had a hankerin' for some good Italian food. i stopped at the ATM to draw out some cash and then we went back to PUC to hang out at the gym where the Fall Fest was to take place. here are the tapioca pearls that were being prepped at the Asian Student Association booth.
i went up to Rasmussen Art Gallery to check out the latest exhibition and then headed up to Grainger Hall where my fellow graphic design classmate, Jonny Halverson, is now the Associate Dean of Men. i was informed that he was at the gym helping to set the Grainger Booth so i headed back there.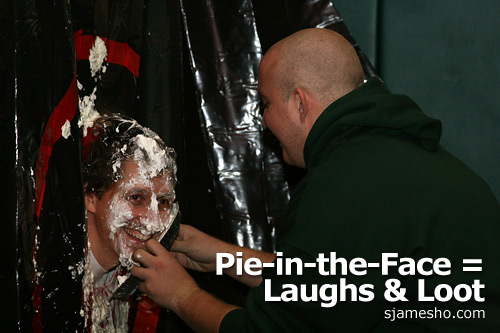 i was able to find Jonny and had a short but great time catching up as he was busy assisting with the booth. here he is after receiving a pie in the face. at their booth, they had various faculty and/or staff being the target and a fee was taken from those who would wanted a chance to throw pie. when it was Jonny's turn, those that manned the booth offered the privilege to walk up to him and apply said pie to his face for an extra buck. brilliant entrepreneurship thinking!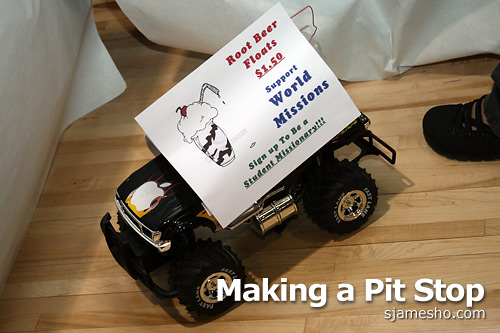 this little remote control truck advertised for the World Missions program, which is always a good cause.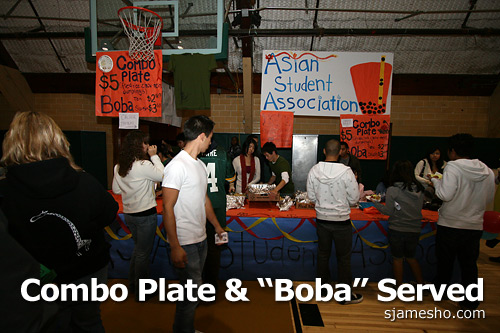 ah… the front of the Asian Student Association booth where they sell asian food and Tapioca Express pearl tea or slushy. i believe the proper term is "pearl" not "boba" which is the Taiwanese/Chinese slang for nipple. and that is just crude.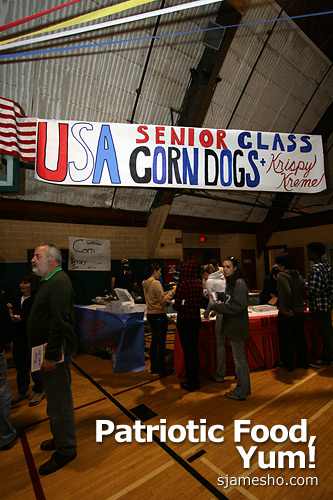 i also wanted to support my friend's booth which offered corn dogs and Krispy Kreme doughnuts. is that American or what?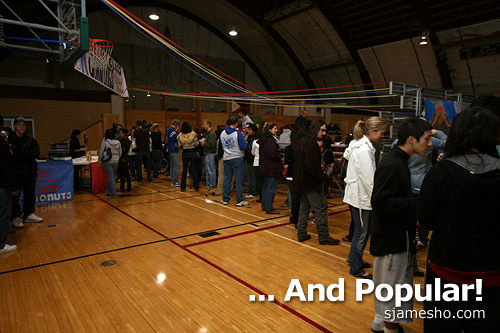 i don't know. but whatever it is, it certainly was popular. i think i may have waited 30 minutes in line for my corn dog. i thought about getting two just for the principle of the it all but i was allocating the rest of my money for other treats.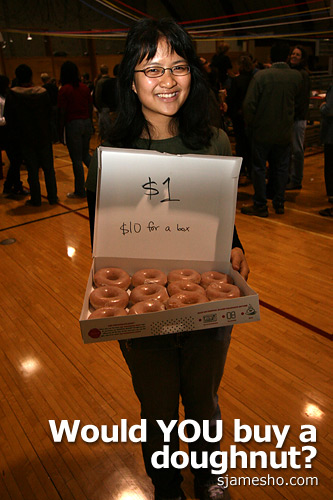 and doughnuts was not one of them. here is my friend Jaylene who tried to sell me one… or the box. but i had to decline since i didn't want my hips to get any wider than it already is. haha!
soon thereafter i said goodbye to my cousin and headed home for there was work to be had the next day.