Chinese Italian Leather Chair with Pearls
my cousin Jannine and her boyfriend Nathan came up on wednesday and stopped at our place for a couple of days on their way up to Sebastapol to their friends wedding. they arrived after dinner so we just chatted for an hour or two before turning in. i had to work on thursday and Jannine and Nathan wanted to visit Carmel so we ended up having dinner at Lu Lai Vegetarian Restaurant for Chinese cuisine.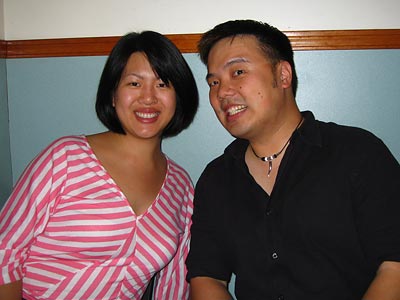 if i remember correctly, we had sweet and sour pork, garlic pepper tofu, and string beans with pickled radish. the surprising thing about the string beans was that we had overlooked the little chili icon next to it and although i was fine with it, it turned out to be rather spicy for Jannine.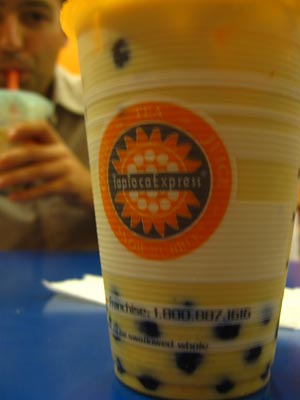 the odd thing about my palette is that after eating Chinese food, i have to have either an ice cream or pearl tea chaser. so we headed to Tapioca Express for some pearl tea action. my go-to flavor is passion fruit because i get rather confused with their ginormous selection of flavors and combinations. Nathan is across from me sipping his mango pearl tea.
we got back and Jannine printed out internet directions for the rest of their trip and then we watched Toy Story and a bit of old Alias episodes which Jannine's sister Shelley let me borrow since i missed the first two seasons.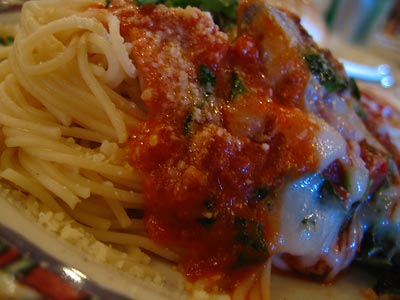 sleeping in on friday, we woke up and got ready and went for lunch at Macaroni Grill where i had my eggplant parmagiana.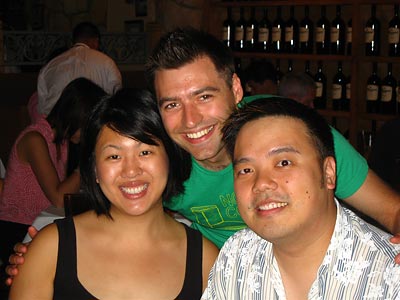 Jannine, Nathan, and i at Macaroni Grill – where we not only feasted on tasty Italian food but also on crazy stories of weddings and worship service peculiarities.
after lunch i said goodbye to Jannine and Nathan as they headed from Macaroni Grill to SF to visit and stay with a friend of theirs before the wedding. i then took the opportunity of a sale and bought a new chair but this one isn't it. it is very evident that this is old and busted.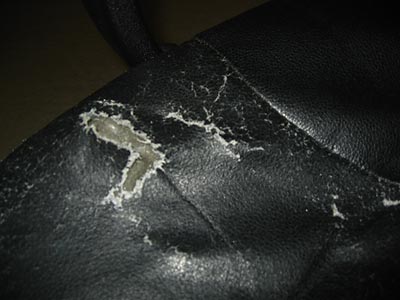 as you can see its rather worn and torn up after five years of supporting my big fat butt. the padding even collapses to the supporting board underneath making my posterior rather uncomfortable.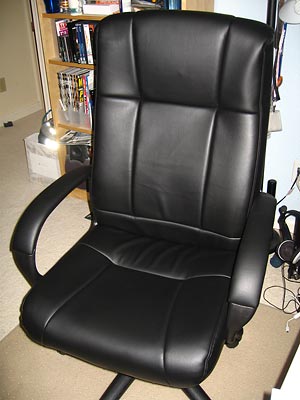 so here's the new hotness in the form of a brand new shiny leather chair which i'm hoping will take me and butt for the next five years. the integrity of the padding is firm but comfortable… so much so that its like giving my butt the spa treatment compared to the old one. goodbye old and busted!